Meeting my sister and mummy for girls lunch at Zuma 🙂 so nice to get out the office, showing them my new designs.
Kimberley seems to be very fond of this restaurant as she has tweeted about it a few times now.  Free lunch then…I think….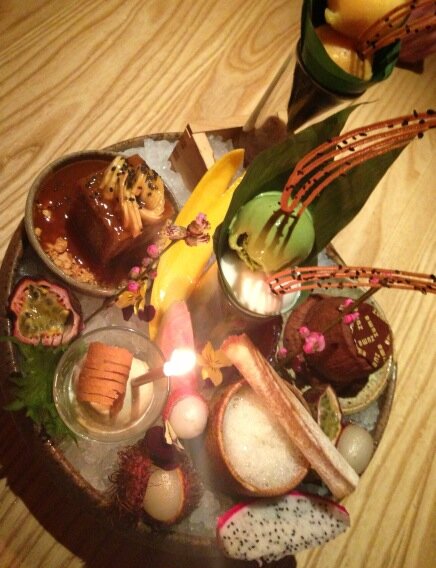 Dinner @zuma … Maybe slightly over ordered dessert 😉 xx :):)
the menu is comprehensive and alluring.  dishes are authentic but not traditional with bold, intense flavours and an emphasis on simple presentation acquired through quality ingredients
there is no set protocol on ordering from the menu;  izakaya style means that dishes are designed to be  shared at the table or enjoyed individually.

Sushi and Sashimi

california maki

fresh crab, avocado and tobiko

dynamite spider roll

softshell crab, chilli mayonnaise, cucumber and wasabi tobiko sauce

spicy tuna roll

tuna, homemade chilli miso and yuzu tobiko

unagi bo zushi

grilled fresh water eel with avocado, sweet omelette and gobo

zuma chirashi maki

mixed seafood selection with avocado, cucumber and shiso
Recipes to try if you can't get to London.
Why not try a starter
Ingredients
6 sheets nori
3 cups sushi rice (cooked)
1 avocado
1 cucumber
36 shrimp (with the tails cut)
1 cup tobiko (flying fish eggs)
Directions:
1 Slice the avocado and cucumber into long, thin slices.
2 Roll the sushi inside-out, using avocado, cucumber, and shrimp as your fillings.
3 Before cutting the sushi into pieces, spoon the masago over the sushi roll to coat (you can use more or less masago depending on your preference). Now cut the sushi into 6 or 8 pieces.
4 Serve with shoyu, wasabi, and ginger if desired.
If making sushi makes you think oh no…..I bought this little beauty and  it is brill and the sushi is perfect…Now it is anyway, first time looked like a dogs dinner, note to self read the instructions, follow them and it will be a dream.  Available from Amazon, sushisushi.com I got mine from TX Maxx for £6.00 so worth looking on the cooking shelves.  It is worth it and easy peasy once you start.  Try it.