Me and Mitzy have found the greatest Bloody Mary in London…..
Ingredients

2 ice cubes
vodka, double shot
½ lemon, juice only
6 dashes Worcestershire sauce
3 dashes Tabasco sauce
150ml/5fl oz tomato juice
pinch salt and freshly ground black pepper
Preparation method
Place the ice into a tall glass and add the vodka.
Add the lemon juice, Worcestershire sauce, Tabasco sauce and tomato juice. Stir well.
Adjust the seasoning, to taste, with salt and pepper and serve straight away.
Boiled eggs and wotsits for breakfast cos I'm a GROWN UP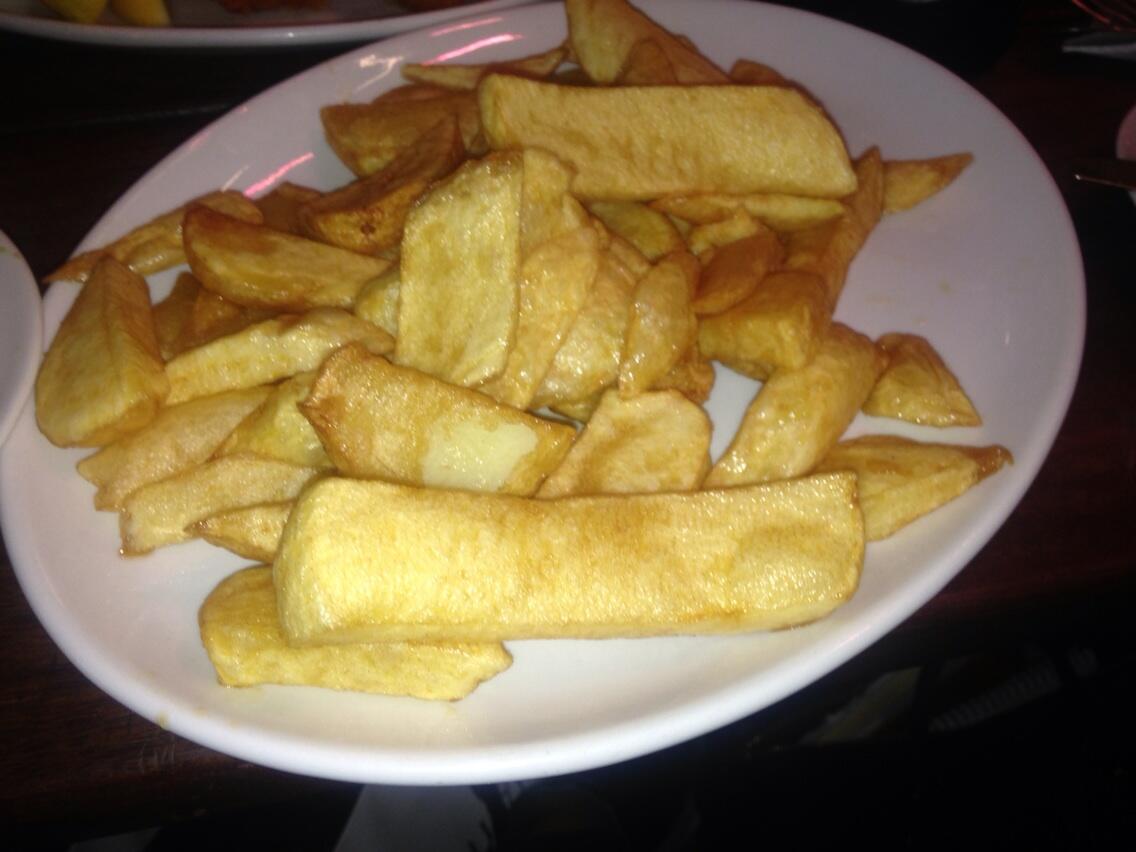 Caroline loves a plate of chips, however chips can very and their are mega chips and bendy attempts at chips.  here are some recipes tried and tested.
Hairy Bikers chips yum yum
Ingredients
4 large potatoes, preferably Maris Piper
sunflower oil, for deep frying

To serve
Preparation method
Peel the potatoes and cut lengthways into roughly 1cm/½in slices. Cut each slice into fairly thick chips and rinse in a colander under plenty of cold water to remove excess starch. (If you have time, it's worth letting the chips soak in a bowl of cold water for several hours, or overnight.) Pat dry with kitchen paper.
Heat a deep, heavy-bottomed saucepan half-full of the sunflower oil to 130C. It's important to use a cooking thermometer and check the temperature regularly. Alternatively, use an electric deep-fat fryer heated to 130C. (CAUTION: hot oil can be dangerous. Do not leave unattended.)
Using a large, metal, slotted spoon, gently lower half the chips into the hot oil and stir carefully. Fry for ten minutes, or until cooked through but not browned.
Remove the chips from the pan with a slotted spoon and set aside to drain on plenty of kitchen paper. Repeat the process with the remaining chips. (The chips can be left for several hours at this stage.)
When ready to serve, reheat the oil to 190C. With a slotted spoon, lower all the par-cooked chips gently into the pan and cook for 4-5 minutes, or until crisp and golden-brown. Remove from the pan with a slotted spoon and drain on kitchen paper.
Tip into a serving dish and sprinkle with salt and vinegar to serve.