Okay I think that we all have seen or certainly heard about Man – Adam Richman – versus food.  Who for the record has given up the programme and lost a bit of weight through not having to shove the biggest portions of food into his mouth.
"Man v. Food" star Adam Richman has slimmed down. The host who became known for tackling seemingly impossible food challenges has debuted an impressive 60-pound weight loss.

The Travel Channel show debuted its fourth and final season, "Man v. Food Nation," starting in 2011. The final episode aired on April 11, 2012. In the year and a half since, Richman says he's given up extreme eating.

"'Man v. Food' was the biggest career-defining opportunity. I went from anonymity to someone of note with access to amazing eateries," Richman tells People, who debuted a photo of his slimmed-down look .

Richman once could fearlessly face a 5-pound pizza or a 8-pound platter of steak, fries, mushrooms and cheese for the sake of audiences' entertainment. But nowadays Richman opts for healthier options than the biggest and best junk food America has to offer, and has lost weight by cutting out white flour and dairy and increasing the amount of exercise he does.

That doesn't make his journey to a slimmer Adam Richman any easier, though. Of a recent road trip, Richman says, "The crew got a bunch of pizzas, and it was all I could smell. It sucked. But I had a Greek yoghurt with raw almonds, water and an iced coffee, and I was satisfied."
Then                                               and                                        Now
Here is the Rock or is it the Tooth Fairy?Anyway back to the Rock or should I say  Dwayne Johnson.  He trains eats well and then blows it all as he needs those foods….Oh yummy Mr Johnson,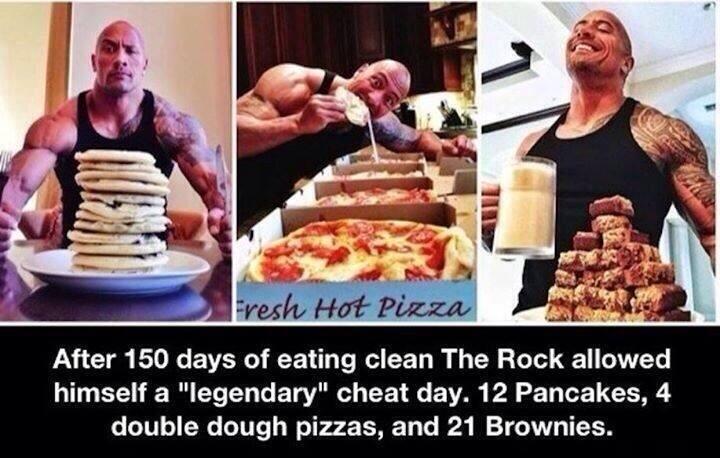 And then hurl!
The worst film I think I have ever sat through with my niece!!! who was 6 when we watched it!